Hazel Shannon on the reliable Clifford has taken the lead in the Adelaide CCI4*, after a beautiful cross-country round, incurring just 0.4pen for being one second over time.
"He tried his heart out," says Hazel, who was obviously very happy with her horse.
They had one'oops' on the course: "The apex – he slipped coming around the turn and I got him a little deep. He was a bit tired and he kind of scrambled over it. It was a little bit hairy!"
Hazel hasn't started to think about tomorrow yet. "He's a good show jumper, he's going as well as he has ever gone."
The leader after dressage, Wilhelm Enzinger on Wenlock Aquifer, slipped back to second after adding 3.2 time penalties to his score, and is now on 55 compared to Hazel's 52.5.  Only one combination came home within the time – Andrew Cooper and the New Zealand horse, Evergem Perfection – and as a result, they have risen from seventh to third. Unfortunately Andrew does not know who Evergem Perfection's owners bought him from, or his history before coming to Australia.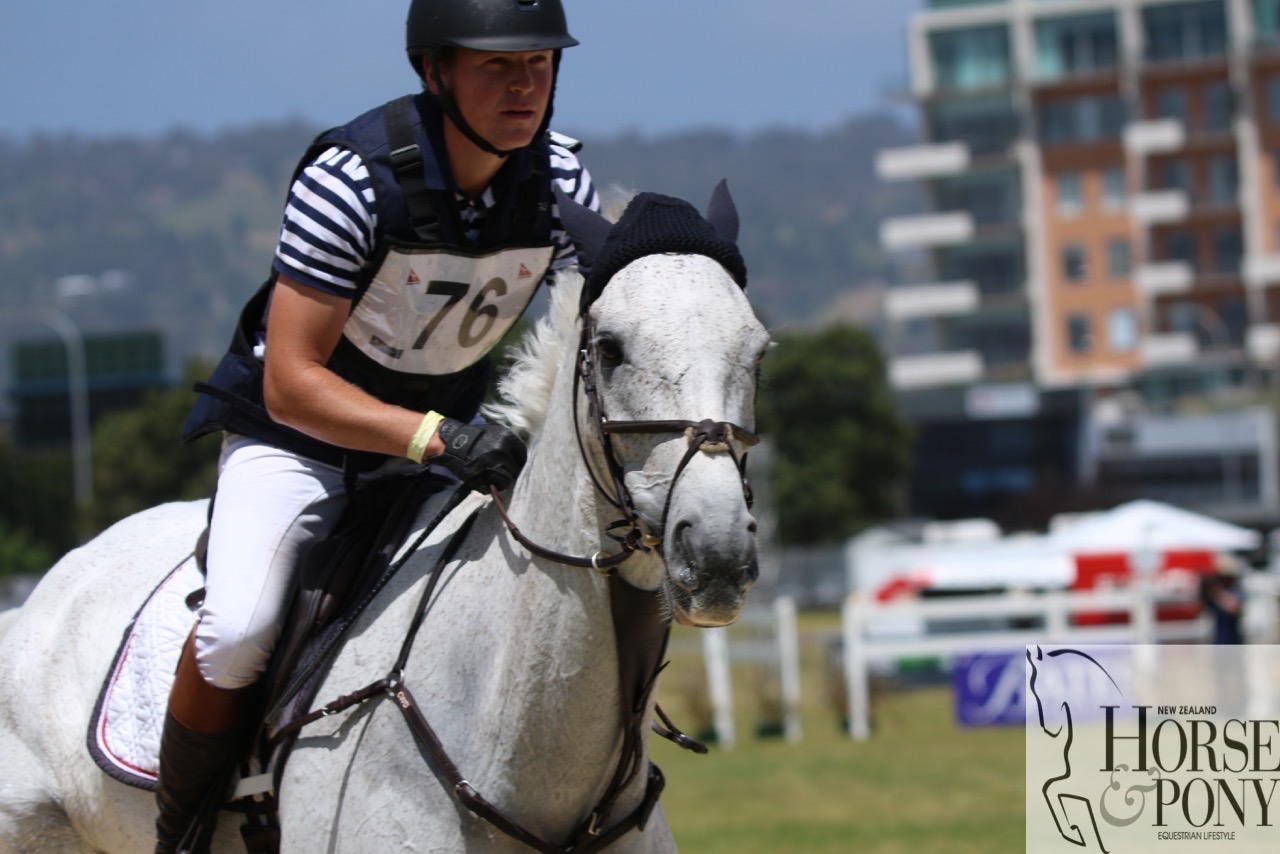 Another New Zealand horse is lying fourth: Wil's second ride, Britannica MVNZ, who put in a great round and finished with 5.6 time penalties. In fifth place is Emily Gray on Jocular Vision who had 11.2 time faults with clear jumping. The only other pair to jump clear were Tegan Lush and Tempus Fugit, but the 57.6 time faults they incurred put them down into 8th place. Tegan obviously had some bad steering problems and her riding display coming into the arena for the last fence left spectators somewhat shocked.
Andy Daines finished on a score of 127 after two run-outs (fences 14 and 17) and 25.6 time faults. That has put him at the end of the field, but he is only 5.9 faults behind Olympian Shane Rose on Glenorchy South Park who also had two stops.  Shane's team mate in the Australian bronze-medal-winning Olympic team, Stuart Tinney, was competing on the New Zealand horse War Hawk, but had one stop and 12.2 time. Both Stuart and Shane ran out at the same fence, the Horselands Hollow, fence 14 – one to the right and one to the left!
Another who had an issue at fence 14 was Rohan Luxmoore, who was third after dressage on Bells n Whistles. He is now sixth after adding 20 jumping and 21.6 time penalties.
While Andy says he isn't 100% happy with his performance, he is very happy to have finished. "It was still amazing to be out there.  Pete definitely realised the fences were bigger. He ballooned over a few of them and it took all my strength to stay in the saddle a few times, quite early on. 4A and 4B, the big boxes with three strides, landing slightly downhill, he ballooned over the first, and I was like 'holy crap' and then he got to B and did the same thing. He also ballooned over the fence on the top of the hill with the turning three strides to the corner. Luckily I had made a plan with Tinks to sit up over that fence, and just jump it on the defensive with shoulders back, so when he landed I was there to help him to the corner.  Luckily I was like that, because when we landed, it was 'oh hell, we are half way there already!' But he locked on to the corner, which was really good, and then I think after that he was just a little hesitant. It wasn't his confidence, but he was definitely second-guessing them a little bit more than he normally does. He normally loves it and will lock on to everything. He was still taking me there, but not as bold and confident jumping them. He gave them a bit of air, to test them out a bit and it just caught us out."
"The first run-out was at the skinny after the ditch [fence 14], and he jumped the ditch and spooked at something. I don't know what it was and he shot to the right. I made a stupid decision and decided to keep going for the direct route when I could have just quite easily yelled out 'option' and gone for that. But it was all in the moment and good learnings.
"We recovered from that, but the skinny before the water – he just didn't really read it properly. I had him sitting back in between my leg and my hand but he just didn't lock on to it. The next time he came around he jumped it fine."
"In hindsight, there are a few decisions I could have been sharper on, but I guess that is the whole idea of doing a four-star. Next time I will nail it."
Andy was amazed at how well Pete recovered. "He is happy; he is very pleased with himself."