Relive the drama of the Grand Prix Special at the Rio Olympics Deodoro Equestrian Centre. Our reporter in Rio, Jane Thompson, selflessly took another one for the team and watched every test, and interviewed as many of the riders as she could in between. Oh, and she took photographs too. And craved coffee.
Marcela Krinke Susmelj from Switzerland on Molberg is the first into the arena this morning. I've already spotted some famous show jumpers in the stand; they have just completed the trot-up for their own event which starts soon. I would tell you which day, but I have lost all track of time (update: it is Sunday Rio time).
The crowd is fairly sparse at this stage; hopefully, we will get a few more people but the organisers and FEI must be disappointed with the numbers who have turned out so far. Steve Guerdat is one of the jumpers in the stand, here to support his Swiss team mate, that's great to see.
Nice halt and we are under way with a 7 and she's getting consistent early 7s for the next movements. I can see our photographer Libby Law in position from my spot, she's on the E-side of the arena and has a nice seat! Meanwhile, the judges didn't like Marcela's walk so much, 6.7. This test is consistent, the horse is being kind and willing but just isn't pulling in the scores that it needs to be a medal winner.
There is no commentary while the tests go on. There is nice music, though. We have TV screens available to us in the stand and the idea was that we could plug the issued headphones into the TV if we wanted to hear the commentary. Great idea but the earphones don't fit into the screens and anyway the screens have nearly melted in the earlier heat.
Marcela is still scoring low 7s and the occasional higher 7. She's finished and she's giving Molberg big pats, and lots of them. Steve has seen enough and he is out of here. 72.871% for Marcela.
Judy Reynolds is next in from Ireland, and she is riding Vancouver K. Her show jumping team mate, Greg Broderick, has turned up to watch in his khaki trackies.  Don't Go Breaking My Heart is her music. 7.6 for her entrance, that's a good start.
It's a grey old day here, and quite cool. Good conditions for the horse, not so good for us perched up in the grandstand. If it rains, three-quarters of the spectators will get wet.  Currently that would be about 400 people, at a guess.
Judy is doing well, 7.6 for her passage and her horse looks good. He's a handsome fellow but alas only has one sock so can't be my favourite. Oh, an 8 for her passage. Go Jude!  She's still scoring well for her passage but hasn't got another 8. 7.9 for her tempis. For her onesies she gets a 7.6. Oops, that was a bit of a rough transition, and her pirouette only got 6.8. Another 8 for passage, but the piaffe only got a 7, not much action behind. She's happy though! Greg makes an exit to go and give the horse a pat and a carrot. Score: 74.09%.
Now we have Canadian Belinda Trussell on Anton. Anton is yet another bay with black points, and three little socks. He's a bit behind the bit in the half-passes and is scoring 7 for the left one. Oops, the commentator just had a big cough with the microphone on, and has started the crowd tittering. The horse didn't worry, though. Just early 7s for his work so far. It's lacking a bit of something; perhaps he left his best in the arena yesterday. The scores are still unavailable thanks to the website being down, and I left my printed result sheet downstairs. While looking for it in my bag I discover a chocolate muesli bar which is quite the find. Just need a coffee to go with it. The coffee here is dire, but strong and hot. It just doesn't last long in the media centre. It's either no coffee or no cups. I really should have come with my own mug.
Belinda is doing okay out there; nothing spectacular, just a lot of early 7s. 7.3 for her two-time fliers, and her onesies. Same for her extended canter. Her centreline changes only got a 5.9, her lowest mark so far, but she recovered to do a 7.7 pirouette. I think the whole of the Canadian show jumping team is out to watch here, as there are a good number of red-clothed people in the stand. Anton too gets lots of pats. 72.493% for them.
The stands are now dominated by blue-clothed people. It's the Frenchman Pierre Volla, on Badinda Altena in the arena. This is a cute little chestnut mare, with four white socks, the back two nearly up to her hocks. She looks so cheerful. The French look very chic in their tracksuits. The judges are not very cheerful with Altena's marks, though. Quite a few 6s so far and then a 5.8 and 5.4. They like the passage, however: a 7.6 for that. Perhaps they didn't notice her socks to start with.
Her walk was nice and got a 7.2 and a 7.1 but she didn't do a good piaffe at all and just 3.3 for that. She's not playing the game at piaffe, she gets another 3.2. It's not a piaffe day for Altena. Her passage still gets a 7.5, though. And her canter half-passes are not great, she gets the sneezes in those. Must be hard to sneeze and half-pass at the same time. Gets mid 6s and a 6.9 for them. Oh dear, she also says no to proper flying changes and another couple of 3s come in. Hello Dolly is her music. She's a doll all right. Pierre won't be the winner, but I'm sure he still loves his wee mare. 7.6 for the passage, she's doing well with the back feet in that. Nice halt to finish, Dolly. There is no loud cheering from the stand from the French brigade. Her score was 65.7%.
I might have to move, it's getting cold up here with that wicked breeze coming in.
I'm also on a mission to find Julie's dressage coach from New Zealand, Andrea Raves, so you can get some proper commentary. But unfortunately, my mission has not come off so you will have to put up with me. We are making a plan for the freestyle on Monday.
Now we have Mads Hendeliowitz from Sweden on Jimmie Choo SEQ. You don't wear socks with Jimmie Choo shoes, and this stallion has none either. He's another very dark bay. There are not that many greys in this dressage; in fact, none qualified for today's event. There are definitely no palominos, roans, or coloured horses either. Jimmie's getting in the early 7s for his work so far. At this end of the field we don't have the superstars but these guys are doing as good a job as they can. More people are now in the stand, at least another 300. 7.9 for that lovely extended walk but only 6.8 for the collected version.
Piaffes were just okay, 6.2. The scores flick up fairly quickly and if you want to look at the horse (or the show jumpers in the stands) you can easily miss them. The collective marks at the end flick up so fast it is nearly impossible to record them. I really think if they want to encourage more people to come to this there needs to be more information on the big screen to explain what the movements are and how the scoring is going.
Mads sits very well, his legs are so still – but then so are most at this level. I'm definitely going to have to shift, it's started to rain a bit and blow in where I am sitting. The Swedish are a bit vocal, not heaps but a few cheers and whistles and flag-waving. 71.681%.
Selten HW and Anders Dahl of Denmark are having their turn now.  A very, very dark bay, not quite black Hanoverian gelding, handsome boy. Jimmie, who was just in, was by the same dad, Sandro Hit. Talking of hit, he just hit the side of the arena, thunk, but it didn't seem to cause any damage or issue for his horse.
He's getting 7.6s for his half-passes. Anders looks a lot more serious than he was yesterday when he was showing the media his toenails painted in his Danish flag! He actually has quite nice toenails. My own husband wouldn't even contemplate painting his toes, but then his are not the sort you would want to! Anders is married to Fiona Bigwood in the GB team. She's beating him at the moment.
He's getting good late 7s for his extended trot. Only late 6s for his piaffes but his passage scored a bit better. Early 7s for his flying changes (two-times) but only 6.6 for his one-time ones. I had to miss a bit of the end due to the rain pushing me out of my favourite spot. When I popped down to the mixed zone, Anders said that he, too, was affected by the rain as his horse got a bit distracted by the people in the stands putting on their coats and talking. "He lost focus, he is very green. He is a horse and I like to allow them to be a horse. He does need to learn how to cope. I still love him just as much if not more, as he was good today.  I will be interested to see him in a year when he has more experience and is stronger. He is a big-moving horse and there is a lot to control." 71.232%
Next up is one of the "names" of dressage, the Netherlands' Edward Gal on his dark bay Voice by De Niro. He's a good solid horse, with a big bushy tail which isn't swishing – that's a good thing. Normally there is a big contingent of orange in the stands for Dutch riders, but not that many today. Perhaps they all have their coats on.
Anyway, Edward is doing okay, 7.7 for his collected trot. There is obviously a Dutch photographer behind me as I can hear practically constant clicking. 6.9 for his extended walk and 7 for his collected. A good piaffe for 7.8. Only 6.9 for his second one, though. Bridge over Troubled Water is playing.
Edward doesn't have a superstar like Totilas in Voice but he's doing okay until we get to the tempis and that was only in the 5s. The onesies were better with a 7.5. Late 7s for his piaffe and passage, but only a 5.7 for his final halt. Paces 7.6, impulsion 7.8, submission 7.3, rider 8.1. Afterwards he said he took some risks but they didn't come off. "Too much, too many mistakes, but we did get more expression in the extensions. He was sharper than in the Grand Prix. You need to take some risks at this level, but too many mistakes this time, which was a pity." Score 73.76% and perhaps this won't be enough to get into the freestyle, which will be disappointing for the Dutch. (Update: it wasn't.)
Last to go on this morning session is Juliette Ramel from Sweden on Buriel KH, a gelding by Osmium. He's got four white socks, just little ones in front. The scoreboard seems to have broken down now and we are not getting any scores, but as he has four socks, he must be scoring well. Oh good, it's back: 7.9 for his passage; 7.4 for his collected trot; 7.7 for passage; 7.3 for piaffe. But only 6.4 for the next one. More issues with the scoreboard but we can confirm the final score was 72.045%.
SESSION TWO
Back from the break already! Those judges must have only had time for just the one coffee. Unlike me, who unfortunately had no time for coffee!
Agnete Kirk Thinggaard is now in on Jojo Az for Denmark. Yet another very dark bay, just two back socks for this Ginus gelding. He's scoring in the low 7s mainly. That looks like a nice walk though, and he gets a 7.6.  His piaffe scored 7.6 as well and the gentle rain still falls. Plenty of umbrellas in the stand. 7.4 for his second piaffe. 7.6 for flying change but then 4.8 for his onesies. Recovered to a 7.4 for the extension. 7.3 for his first pirouette, and 7.6 for his second. 7.6 for the transitions there. He's getting lots of pats and the lady on poop picking-up duty is trotting into the arena. Score: 72.619%.
Next up is Diederik van Silfhout on Arlando for the Netherlands. Some of you may have seen this pair at WEG in France. Arlando is eye-catching as he has four white socks and Diederik is very tall. Lovely halt! 7.6. Plus he is a winner as he has scored Michael Jackson's Billie Jean music. Arlie is even trotting in time to it. He's getting late 7s for his half-passes and early movements. His trot is very nice and very expressive. 8.1 for that passage. We haven't seen many 8s this morning. 8.2 for the passage but only 6.6 for his extended walk, improving to 7 for his collected walk. He may moonwalk soon if there is more Michael music. 7.9 for his first piaffe, and 8.1 for his passage. The Dutchies will be very pleased with their boy on his Paddox stallion here. They need a bit of cheering up after Adelinde had to pull out yesterday. Diederik has done the best test of the morning so far, but we have some big guns still to come. Late 7s for his flying changes. Only 6.9 for his pirouettes. Total score? Oh bugger, I missed it and the live scoring is still not working. 76.092%, someone helpful tells me. That puts them in the lead at this point.
Patrik Kittel from Sweden is next, on Deja, a Silvano mare. She's a big bay girl, two white back socks. She has a nice outline. Scoring is going well for them, 7.9 here, 7.7 there. Oh! Only 5.3 for the transitions to passage. But recovered for a 7.8. Patrik is quite obvious in his own movement for the two-time and one-time changes, swinging his shoulders quite a lot. Is that a good thing? Doesn't seem to worry the judges, they are giving him late 7s for those. I like that extended canter and so do the judges, giving it an 8. He's finished and getting quite carried away waving his top hat around. Perhaps that's why they like wearing them, easier to lift off at the end to wave. I far prefer helmets myself.
Right, next up is Cathrine Dufour from Denmark. She rides Cassidy a Caprimond gelding. Nice to see a chestnut for a change. Three socks. Scoring in the late 7s for her half-passes. Has a nice trot and gets 7.8 for the extension and 8.1 for the passage but only 7.6 for the collected. This probably won't take over the lead, but it's a solid test, mostly late 7s. Flying change (two-times) 8.1 just to make a liar out of me. 8.2 for the one-times. That's good. Well done, Cathrine. 8 for her pirouette too. But the mistake in the flying changes between pirouettes costs her dearly with a 3 something. I blinked and missed it. She's recovered well enough to get an 8 for her collected trot. Loud cheers at the finish. 76.050% for her, so she nearly proved me wrong and slots into second place.
Yesterday's favourite, Johnson, is in the arena before I'm ready. Han Peter Minderhoud is the rider, for Netherlands. The rain has stopped for them. I'm predicting big things for these two. Extended trot 8. Well done, judges. Then they slip back to the late 7s for the next few movements. That is such a pretty horse. Do you remember that he has four white socks? He's a stallion by Jazz. Hans Peter said he was the most beautiful horse here and I agree. Walk is rewarded with a 6.5. Rewarded? Penalised more like it. 6.9 for his collected walk. A bit of Bowie music makes the scene even better. It's all orchestral music in case you are wondering.
Points are not flowing out of those judges for my mate Johnson. He's sometimes moving his lips as if he knows the words for the music. Yes, 8.3 for the most expressive extended canter of the day so far. I picked up my camera just a little late to get a photo of that. It's hard typing and taking photos at the same time, while trying to keep an eye on scores. Just as well we have Libby to take the "proper" ones. Mine are just the holiday snaps from the stand. I also have to take my glasses off to use my camera, but need them on to see the scores. Challenging. Lots of cheering for Johnson. The orange brigade liked it but the judges only gave him 75.504%.
We now have Sweden's Tinne Wilhelmsson Silfven with Don Aurelio, another dark bay. He's a gelding by Don Davidoff and has a lovely trot, scoring an 8 for his collected one. Sorry, missed a bit of the action there as Clarke [Johnstone] messaged me to find out what time the Germans and British riders are on so he can get here in time from where he is currently – watching the athletics! Go Clarke! He's making the most of his Olympic experience! It's also very hard to take a good photo of a pirouette. 8 for paces, 7.6 for impulsion and 8.1 for submission. 8.5 for rider. Total 77.199% and more cheering when that score is posted as it puts them in the lead.
Anna Kasprzak from Denmark on DonnPerignon is in now. He's a gelding by Donnerhall. Another bay with two back socks and perhaps a little sockette on his off-fore. Or perhaps it is sand. My glasses need cleaning. He's scoring 7.1 and 6.2 for his walk, not a great start. There're a lot more people in the stands now, but still less than half full. Late 7s for most of his half-passes. First flying changes score 7.6, and then 5.9. Just spotted Carl and Fiona up in the stand watching.
Anna is finished and waving, just with her hand, not her top hat. She was very happy with her horse. Anna had a terrible injury at Aachen at the Europeans when she was kicked just after the trot-up by DonnPerignon. She broke her sternum and three ribs, but at the time the doctors couldn't find anything wrong with her so she discharged herself from hospital and rode the GP and the GP Special. She couldn't carry on for the freestyle, though. "The pain was like hell," she said. She is fully recovered now but didn't take the chance to lead him at the trot-up this time; her trainer did. "He was naughty again here. He is really naughty for a 17-year-old." The horse is also partially blind in his left eye. He has some forward vision but cannot see behind him. The cause was an eye disease, which left him slowly seeing less and less. He was a bit spooky to start with. "He has got used to it. I show him that if I am not reacting it is okay." She's ended up with 74.580%, and we later find out she has qualified for the freestyle, which was her goal.
The chestnut ridden by Beatriz Ferrer-Salat of Spain is in now. Delgado is by De Niro as well. This is Beatriz's third Olympics; she was an individual bronze medallist at Athens.  Her test yesterday was 74.829% so she will be hoping for an improvement (I have my scoresheet from yesterday now). First 8 on the board for the extended trot. Mainly late 7s after that until her next extended trot which is also an 8, and her passage, another 8. Go Bea!  8.1 for passage, she's doing great. She's tracking to take over the lead here if she keeps this up. Those changes looked good to me, she sits so still and hardly moves her leg. 7.4 though. 7.7 for the next lot (onesies). The canter is lovely too. 7.4 for her pirouette both times. 8 for her collected trot. Another 8.1 for her last passage. That's a good score coming up. Delgado, aged 15, has had many tendon injury problems in the past. He had an operation and then tore it again in a different place. "We started working with a chiropractor and a good blacksmith. For three years we went really, really slow. Lots of hacking, long-reining and treadmill. I started competing on him again in March last year. I knew he had potential and that he was worth it. I don't school very often, maybe once or twice a week. We had to treat his whole body. He is a different build now. " Beatriz is asked about what music she has for her freestyle. "I have my own composition which I used in Europe. It is not a medley, it was composed especially for me." 76.863% and into second place.
First into the arena after lunch (hope the judges had a good one) it is Severo Jesus Jurado Lopez from Spain on Lorenzo. This is the young lad who reckons he wasn't much good at school so went riding horses as he could do that well! 8.2 for the half-passes, oh yes, he can do that well. Another 8 for his passage, plus a few 7.9s here and there. His chestnut gelding (two back socks) is by Lord Loxley. 8.1 for that passage. Nice walk too for the extension, but the collected is a bit wobbly. It gets a 6.9. The piaffe also isn't great, just a 7 there. The next one is a 7.5 and a loud sneeze comes out of Lorenzo. Back to 8s for his passage and into the canter work, which looks to me to be lovely. He's a nice horse to watch, and the rider is lovely (-looking as well). Not such good scores for his half-passes, just 6.6, but his flying changes are okay at 7.5, and 7.4 – bit of tail-swishing going on there. He's doing the funny thing with his top lip again. 7.9 for that pirouette, but I love that collected trot and so did the judges, 8.4. Well done, Severo, who responds with a lot of top hat waving on the way out. 77.479% and we have a new leader!
We are now watching Inessa Merkulova from Russia on Mister X. They are playing the Crusaders theme song! Mister X has four white socks and is a gelding by Egeus, a Trakhener. Scores are not high enough at this point to threaten, but then he gets an 8.3 for his passage. The judges settle in to lower 7s again after that little peak of excitement. In yesterday's test the pair got 75.8, finishing 14th. Oh no! The bell has gone, course error! It's the first I have seen in Rio. How awful for her. But she's holding it together, and is still staying in the early 7s. She's not going to score as well as yesterday at this rate, though. Just had a friendly English photographer wanting to know a bit more about dressage, like what score do you have to get to win, what was that bell for? Perhaps we have a new fan? Good finish for Inessa, a flurry of 8s including for her halt. Score:73.126%
Now we are back to France. Karen Tebar and Don Luis are in. He is a gelding by Dimaggio, just 11 years old. Another dark bay. He's starting off getting late 7s. An elegant-looking horse, just one back white sock. They've chosen some weird music for this pair. I can't put a name to it. Scores remain in the mid 7s. She's going to have to pull something special out of the bag if she wants to qualify for the freestyle. An 8.1 for the walk from judges, that should help. But those piaffes are not great, just 7.1 for them both. 4.9 for the flying changes every second stride and 4.1 for the one-tempi. That wasn't in her plan. Think that will be the last we see of Karen. Score: 72.941%
Right, we are now in the all-important team riders with the American Allison Brock first up, with Rosevelt. He's a stallion by Rotspon, and is 14 years old. First piaffe not great, just 6.7 but improved the next one for 7.1. The canter is only scoring in the mid and low 7s too. The American team will want her to pick up her game. She's trying! Flying changes 7.6 for the tempis, onesies in centreline 7.1. Pirouette 7.6. Her score yesterday was 72.229 and this one will be better than that. Just a few mistakes here and there. She leaves the arena to the song Hotel California. Too funny. Score: 73.796%.
The young gun from Germany is in. Sönke Rothenberger on Cosmo. Cosmo is a Van Gogh gelding (with two back socks). Apparently you pronounce Sönke's name like Zoonkey. He starts off well with an 8.1 for his entrance collected canter. 8.9 for his half-pass. It certainly has something about it – light and joyful. If he keeps this up he will be rapt! And so will his team mates: 8.6 for that extended trot. Sönke looks very elegant on a horse, he's a tall lad. He's on to take the lead at this rate. More 8s. But just a 7.1 and 6.6 for his walks. Piaffe a 6.9; that will also be costly. The second one was also 6.9. His passage is okay though, scoring 8.1 for both the last two. Oh dear – only 5.4 for his flying change. And 4.8 for the onesies. Extended canter looked better but he did his flying change too early, so 6.1. What a shame; this test started out so brilliantly but some big mistakes in there have cost the young man. Still, at just 21 he has a bit of time to put in some more practice. 8.6 for that trot. Yesterday he scored 77.329 so I think he will be a bit disappointed with today's 76.401%.
Spencer Wilton is next in for Great Britain. He's on Super Nova II who is yet another one by De Niro. Big, very dark bay horse, one back white sock. Spencer used to be a working pupil for Sir Mark Todd, many moons ago! It turns out that he is also a great mate of a great mate of mine. He's a chatty bloke, and quite the character. So we will put up two photos of Spencer as a reward.
Mostly low to mid 7s for the first few movements. There's a lot of tail-swishing going on. He's going consistently though, and scored an 8.1 for his passage. His piaffe wasn't great, just 6.8 from the judges on the first one, 6.4 for the second. Good canters, to start with, and half-passes going well too. Changes good, 7.8 for his two-timers but 4.4 for his onesies. Oops. Extended canter also on 5.6, mucky at the end. Back on track for his pirouettes though, with a 7.2 and a 7.1 and 7.3 for those flying changes in between. Spencer doesn't take his helmet off and wave it around: well done, Spencer! Be like Spencer. Score: 73.739%.
Now we're on to America's Kasey Perry-Glass on Dublet. He's by Diamond Hit. Another dark bay with one white sock. Into the late 7s for his first few movements. Nice bouncy trot, making Kasey's tails fly. Oh dear! Broke at the extended trot, had a bit of a canter. That's a shame. The crowd go "oooh". 4 point something for that and 5.9 for the transitions. Guess they didn't like the extra transitions in there. Back on track with 7.9 for passage and a better extended trot this time for 7.4. Kasey said that the test wasn't her best. "He really tried. There's a few kinks to work out but I give him full credit for staying with me." Score: 73.235%
And now one of the really big names, Dorothee Schneider of Germany with Showtime FRH. What a beautiful test! She starts off with 8.4s and then a 9.3 for her first passage. More 9s, especially for her passages which the judges obviously loved. He is just lovely to watch, she has such control, he is right there in her hands. There is one mistake, at the pirouette where she scored a 4.6 and made the crowd go "oooh". But then she got a 9.8 for the last passage twice, so made up for that blip. "I was absolutely motivated, we wanted to do this together. He make an amazing job. Hind legs in front of the aids, hearing me. Passage had so much power in the hind, he had rhythm. It was pure nature with the horse. I am very happy to ride this horse. Totally happy. We will have a very light day tomorrow and then the next day prepare for the freestyle."  She has a Queen mix (mainly) including "The Show Must Go On" lined up, and she has prepared the plan herself. 82.619%, the first one to break the 80% barrier and well out in front!
Great Britain's Fiona Bigwood and Orthilia start out scoring low 8s and high 7s. Her piaffe does not go well; it is very unsteady without the required number of steps and she gets a 3.9 for that. She also makes a big mistake at the end of the two-time flying changes and scores 5.2. Her onesies were better though, scoring 7.2.  "He caught a glimpse of a camera or something, it is definitely not a normal environment. He tried. The first bit I was thinking whoo-hoo, and in my warm-up I wanted to go in right now, it felt so good. Not often I feel like that. Two years ago I was giving up after the accident [where she was severely concussed, leading to double vision and hence the eyepatch]. I was not allowed to have a fall for another year. The mare I have got is really safe. I never thought I would ride at this level again." 74.342%
Steffen Peters and Ravel from the USA were thrilled with their performance yesterday, and do a nice test today, except for one half-pass where he scores a 4.2 and then a 4.1. He has a good finish, however, including an 8.3 for his passage. "We lost balance in the first half-pass. He did the first piaffe beautifully. Rest of the test was clean, the changes good. I knew exactly what score I had to get, and am super-happy as I did – just!  I had to deliver for this team. The team medal means more to me than all my other successes. It means so much to me." 74.622%
Another German superstar, Kristina Broring-Sprehe and Desperados FRH start with very positive scoring, including 8.6 for the extended trot. She consistently pulls in 8s, including for the extended walk and the piaffe. In fact, she scores 8s for most of the movements, except "just" 7.6 for her extended canter. Really, this is a joy to watch. I love this pair, they look so polished and they're impeccably turned out. 81.261%
Great Britain's Carl Hester has a point to prove with Nip Tuck after a bit of a hiccup yesterday. He gets consistent 8s and high 7s, except for the second pirouette which is a shocker, and scores 4.3.  "I loved riding him today, I was on a personal best until that pirouette. He went great. He was very genuine today. The future of British dressage is great, winning a medal again with new team members." 76.485%, which is nearly a full mark higher than yesterday.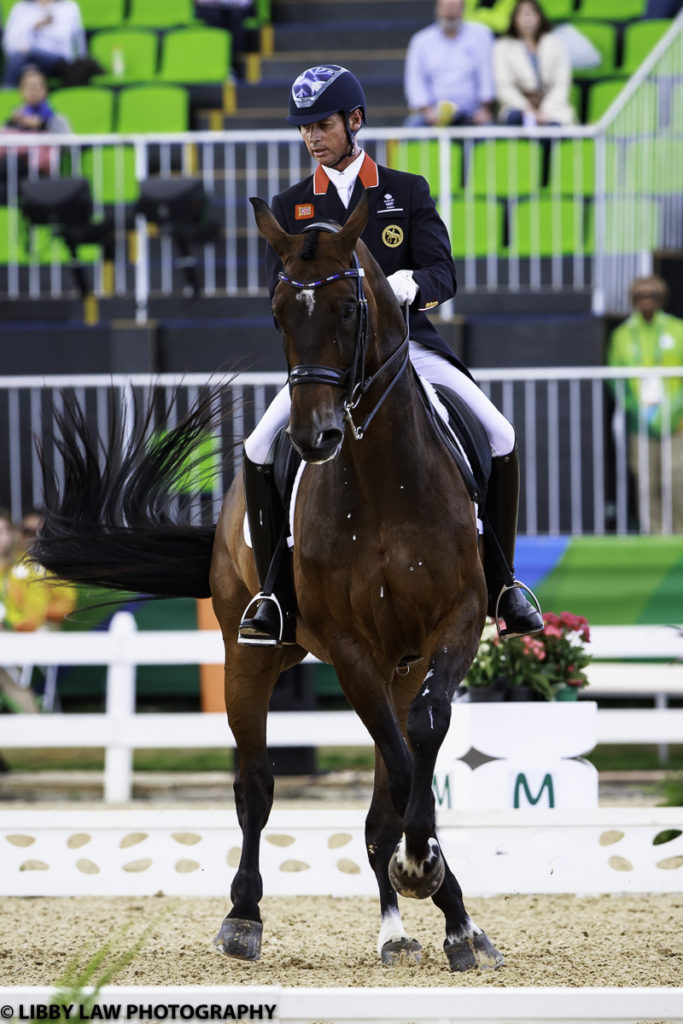 Former hairdresser Laura Graves and Verdades have a job to do for the Americans to ensure that they win a medal, and she delivers. She starts with an 8 and high 7s, and then for her passage scores 8.2. It was the four white socks which nailed it for the judges, I'm sure. Her flying changes were great and were rewarded with 8.4 for the twos, and 8.6 for the ones. The ones down the centreline score 8.9! Her final score is 80.364% which sets off screams of joy from many in the crowd. "That elusive 80% – I've finally captured it! It's 2-3% higher than I've done before, so is a personal best. I knew it was going well, but just hoped that my reflections matched the judges. I had no idea what I had to score, but, looking at the faces of my team mates as I came out, I knew it was OK.  I didn't feel the pressure, I just wanted to contribute. It will be real when that medal is hanging around my neck. Every day the horse may be a little different; I had a good feeling going in that he would be on point and he was.  We have done a lot of work this summer. It has made a big difference."
German's anchor rider Isabell Werth is next in with Weihegold OLD and she is on a mission. She and her mare are another pair that are a joy to watch. 8.4 to 8.8 scores for her passages. Her paces get 8.4, impulsion 8.8, submission 8.9 and the rider scores 9.6. The total score is 83.711% and Isabell is doing fist pumps by this stage. The Germans in the crowd are going off. This performance means that Germany have won their eighth gold medal in Olympic team dressage, and for Isabell it is her sixth gold medal, which equals Dr Reiner Klimke's record. "We were hoping that we would have the gold. We had four horses that could go above 80%, so if one horse had a problem the other three would be there. This was much more than we expected. We are really proud and happy about the whole team. I am really, really proud about Weihegold. This is the part that makes me more proud and happy, rather than to be on top on a statistic. It is great to have another gold medal, of course, but to work with the horses and to win with three different horses in all the years makes me happy and very proud."
And finally, it's Charlotte and Valegro for Great Britain. The crowd gasps very loudly when there is a big mistake by the pair at their first half-pass. Valegro scores an unheard of 3.7 but doesn't let this influence the rest of the test, scoring high 8s, including a 8.9 for his extended trot. A helicopter flies quite close to the arena (despite the security guy telling us the other day that this would not happen again). Then there is another mistake, this time with the two-time flying change, which scores a 5.9. Again the pair just pick themselves up and nail the rest of the test. 9.1 for the one-time flying changes, and then 9.3 for the pirouettes. 83.025% for the final score, and they have the rare feeling of being beaten. Charlotte didn't hear the helicopter. She was obviously too busy concentrating on her work. "I was really, really happy apart from the two mistakes. It was the first time I have ridden this test this year. It was just two small misunderstandings. I was really cross with myself. He was just being helpful, he wasn't being naughty. He tries so hard, I love him so much."
Charlotte has new music for the freestyle. She has only ridden through this once, so hopes "it goes to plan."  She won't tell us about her music: "You just have to wait until Monday." Carl is taking Charlotte to Christ the Redeemer tomorrow to pray for a good performance on Monday.
The medal ceremony is a bit chaotic. Dressage horses are not reknowned for being well-behaved at presentations and today is no exception. As normal, the horses are accompanied by a groom to hold them while the medals are given out. One of the grooms, Robbie Sanderson, is leading in Sönke's horse Cosmo who rears, hitting the poor man on the head. He goes down for a while, but bravely walks out, supported by others.
At the press conference afterwards Sönke reported that Robbie "seemed fine, he is on his way to the hospital to get checked up, but hopefully it looked worse than it was."  The team are upset as they had just had news that German canoe coach, Stefan Hansen, has been in a car accident and is seriously hurt. They take the opportunity at the press conference to pass on their best wishes.
So it's Germany gold, Great Britain silver and the USA bronze. No medals today for the Dutch. Can one of them get a podium finish in the freestyle? Is Charlotte's second individual gold medal suddenly looking less certain? Tune in Monday!