Rider: Graeme Hansen
Tokyo, 1964
If you've ever been to the Horse of the Year Show, you might have heard of the Saba Sam Shield – it's the prize awarded for the best area pony show jumping team.
Some of the most famous riders in New Zealand have their name on the shield, which was donated in honour of a mighty little thoroughbred who dominated equestrian sport here during the 1960s.
Saba Sam – who was just 15.2hh – jumped at the 1964 Olympics in Tokyo with his rider Graeme Hansen, but his achievements far exceeded the show jumping ring. He was also a multi Champion Hack and Champion Hunter at the Horse of the Year Show, and for a time was the joint holder of the New Zealand puissance (high jump) record at a whopping 1.95m!
Sam was born in the Wairarapa. He was by a stallion called by Sabaean and – remarkably – out of a 32-year-old mare called Patter, who sadly died just as he was foaled.
So, Sam was hand-raised by Nancy Williams at Te Pari Stud in Masterton; little did she know she was bottle-feeding a champion!
Saba Sam was first destined to be a racehorse, but proved to be disappointing on the track. At the age of just four, his owner Sam Gudsell sacked him from racing, and gave him to his nephew, Graeme Hansen, to see if he could turn him into a jumper.
The year was 1957, and it didn't take long for Graeme and Sam to forge an amazing partnership, and show they were a combination who were going places.
They represented New Zealand for the first time in 1959, and had a huge string of wins, including showing's Champion Hack of the Year at HOY in 1961.
The following year at HOY they were joint winners of the puissance, and they went on to win it outright the following year, in 1963.
In fact 1963 turned out to be one of their most remarkable and successful years: they were presented with a gold cup by Queen Elizabeth for winning the main class at the Royal Horse Show in Auckland. Later the same year at the Masterton Show, Sam and Graeme won the Champion Hunter of the Friday morning, the Champion Round-the-Ring Jumper that afternoon, Champion Hack on Saturday morning, the Grand Prix show jumping class on Saturday afternoon, and capped it all off in the last class of the show with a puissance win at 1.95m!
It was no surprise that Graeme and Sam were picked for New Zealand's first Olympic jumping team and sent to the 1964 Tokyo Games. They left for Japan via ship, and a huge crowd gathered at the wharf to see them off.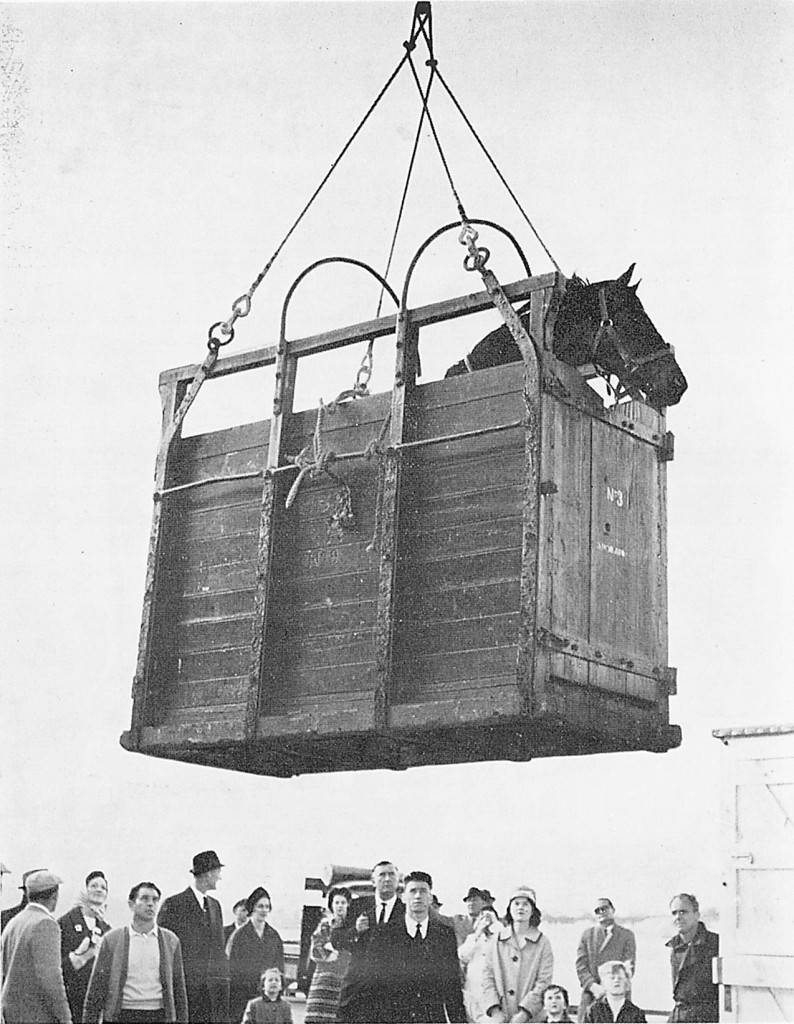 Sam and Graeme were New Zealand's best-performing partnership at the Games, finishing a respectable 23rd.
After the Olympics, Sam competed successfully in England before returning home, where he continued to be in the money. He and Graeme won the Norwood Gold Cup at the Horse of the Year Show in 1968, the same year that Sam retired.
Three years later, in 1971, Graeme presented the Saba Sam Shield in honour of his little partner.
Graeme, who died in 2007, regarded himself as 'a passenger who was fortunate enough to be Sam's owner'.
Graeme and Saba Sam were one of four pairs in our first Olympic show jumping team: the others were Bruce Hansen (Tide), Adrian White (Eldorado) and Charlie Matthews (Syndicate – 1964's Horse of the Year).
A little black thoroughbred, just under 15.2hh, with a tiny white star, Sam had talents beyond show jumping: he and Graeme won champion hack and champion hunter at the Horse of the Year Show. They also won the HOY puissance three years in succession, though never took the Horse of the Year show jumping title. They were joint holders of the NZ puissance record of the time (6'5" – 1.95m) with Charlie Matthews and Syndicate, and had represented New Zealand four times before Olympic selection.
The four Tokyo-bound horses left home by sea on a cold, wet and windy day in September 1963. They reached Japan later that month, had a huge trip by truck (almost 600km) to their base at Kobe, then just 35 days for conditioning.
Sam and Graeme were our best-performed partnership at the Games, finishing 23rd, with a total of 37.75 faults. They were 10th in round one with 12.75, but struggled in the second, taking six rails and crossing the line four seconds over time. The individual event was won by Pierre Jonqueres d'Oriola of France on Lutteur B, and the teams contest by Germany.
Sam and Graeme represented New Zealand in England in 1965 and in Australia in 1967. Sam retired in 1968; Graeme was still competing in 2006 and died the following year. He regarded himself as 'a passenger who was fortunate enough to be Sam's owner'. Sam's name lives on in the Saba Sam Shield, held at HOY each year.