The famous Badminton Horse Trials lived up to its formidable reputation and caused all sorts of bother to all sorts of people, including some of the New Zealanders. Happily, some of our riders also demonstrated some brilliant abilities, and we have three in the top six: Sir Mark Todd, Jock Paget and Clarke Johnstone. Jonelle is also right up there, in 11th place, and Blyth Tait is just outside the top 20, in 22nd.
World number one, Michael Jung, also lived up to his formidable reputation and made it look easy. Clear jumping, no time, no worries. He now goes into the show jumping with a lead of nine penalties which gives him two rails in hand over his fellow countryman, Andreas Ostholt, on So Is Et.
For others, however, the huge cross-country course caused huge problems. Oliver Townend and Armada were first out and, as per their normal style, made it look easy, finishing clear and under time. Oliver announced afterwards that this would be the 17-year-old horse's last appearance at this event; he's now had five clear rounds under time here.
But even before Ollie was home, things started going wrong for the competitors following him. The notorious Vicarage Vee took out the next two combinations and the course started to get the better of competitors, including the first two New Zealanders on the track.
Megan Heath's St Daniel never really looked like he was interested in taking on the challenge. He was sticky at the beginning, and it wasn't long before he had a stop, then two more at the Mirage Pond so that was the end of Megan's Badminton.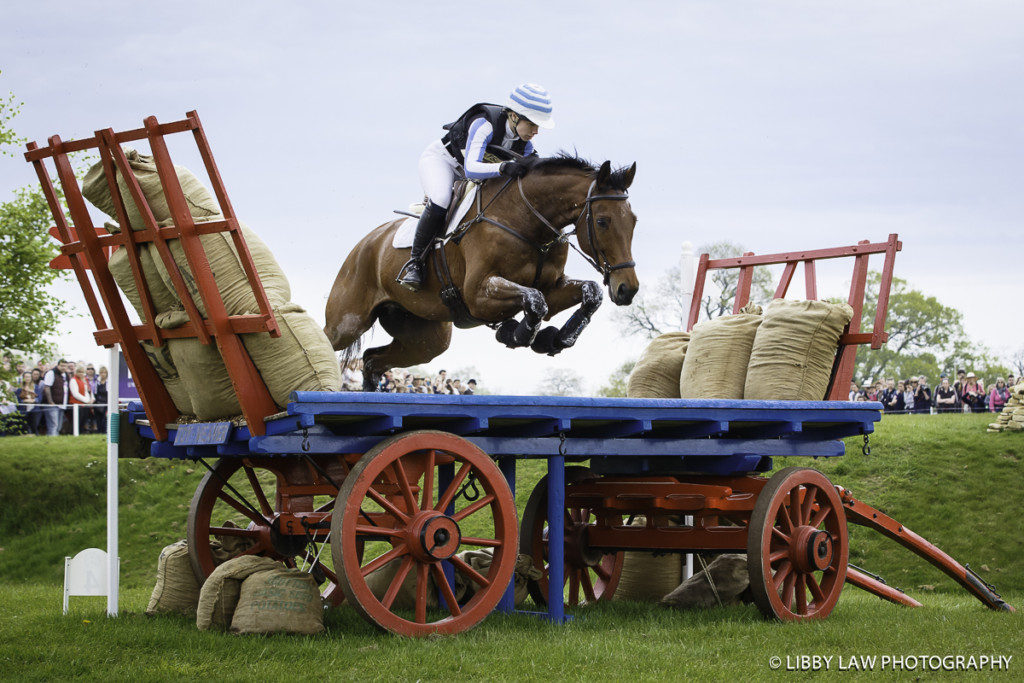 Dan Jocelyn was using all his skills and experience to get Beaucatcher around, he was the youngest horse in the competition and this was his first four-star event. They had a stop going into the Mirage Pond (lots of people had issues at this fence), and then Beaucatcher wasn't keen on the option at the Vicarage Vee, and Dan elected to retire and walk home. As he said afterwards, they will be back!
Jesse Campbell and Kaapachino, in their first attempt at this track, gave it their best but the bogey fence, the Vicarage Vee also caused them an issue, with Kaapachino flicking outside the flag at the terrifying straight-through option. Jesse recovered quickly to take the other option which, while not in a great style, was successfully negotiated and they finished the course with 20 jump faults and 15.2 time. Their final score of 76.3 left them in 30th position at the end of the day. We understand that Kappy lost two front shoes on course, which certainly would not have helped their chances.
"It was really hard work out there," Jesse said after completing his round. "We knew it was tough, but I don't think we estimated just how tough it was on the horse mentally. It asked so many questions… the questions that Guiseppe asked – he kept on asking trust sort of questions, jumping into space, going up where a horse can't see a landing. I think they get really suspicious." The Vicarage Vee is the 21st obstacle and Jesse described it as "terrible". He thought that by then the horse was starting to doubt what was in front of him. "He was like, 'what the…?', he was just like, 'I don't know what's going on!'."
Blyth Tait showed that age has not dulled his immense skills. What a class act he is, to take the inexperienced Bear Necessity around the course with no jumping faults and just 4.8 time faults. He took the longer option when Bear over-jumped the first of one combination, moving quickly to Plan B, and giving the horse a wonderful experience. Their score goes to 53.3 and into 22nd place.
Bear jumped really well, and was a tired boy towards the end of the course. He was one of the best over the nasty, horrid Vicarage Vee. Balanced and beautiful. Well done Blyth – just as well we weren't there, we would have had to kiss you!
Clarke Johnstone and Balmoral Sensation really did look awesome. They too showed all class over the Vicarage Vee, and Ritchie looked like he enjoyed every bit of the challenge. Ears pricked, loping along, he was tired at the finish but still looked great. The pace that super-groom Lydia Beale showed, running to greet her beloved Ritchie, was seriously awesome! A few time faults for Ritchie and Clarke (4.8) but none for Lydia. Clarke is now in sixth place, a really, really good effort.
"I'm thrilled. It was a really big course, causing quite a lot of trouble. I'm really thrilled I've managed to jump around clear." While Clarke said he thought he was prepared when he had walked the course, he was surprised at just how relentless it was. "You start thinking, 'Oh my gosh, when am I going to get a breather?' It just keeps on coming at you thick and fast."
Jock, riding with his normal determination and forward position, also did a great job, especially during the early part of the course, and later at the Vicarage Vee.
Jock did have to work hard at the end part of the course as Lush seemed to be tiring, but he got him through and was four seconds inside the time. The commentators were impressed with Lush's lack of gear: no breastplate, no martingale, no neck strap. Jock was very happy. "It's his third time around here, I love riding this horse, he just tries his butt off for me every time. I'll reflect on this later, when I sit down and have a beer, but for now I am just thrilled with the result and how he has pulled up."  They are now in fifth place.
And then it was Sir Mark Todd's turn. He had a real life at the Shogun Hollow, and  undoubtedly won the 'save of the day' by the way he stuck on Leonidas II. They recovered well and went on looking superb, storming home with no jump or time faults. Toddy is now the best-placed New Zealander, lying fourth and 10.4 faults behind the leader, but only 1.4 behind second-placed Andreas, and 0.2 behind third-placed Gemma Tattersall (GBR).
Jonelle Price was the next Kiwi out. Known as the fastest cross-country rider in the world, Jonelle gave another demonstration of how she earned this title, skipping around the course in great style and making up a lot of time right from the start. Afterwards, she said that she did have a sticky moment at the first pond, and had to give Classic Moet a bit of a reminder, especially with all the big ditches coming up. "She responded beautifully. She's phenomenal, reliable, fast and makes me look good." Their score of 47.3 leaves them in 11th place.
Tim's recent run of bad luck unfortunately has continued at Badminton. Ringwood Sky Boy pecked badly on landing after the Vicarage Vee and Tim had no chance. He was up and hopped back on straight away, but of course all he could do was ride back to the stable. Until then he had looked confident and fabulous, cruising along in a good rhythm, good on the clock and over the jumps. It was just not his day, again.
British-born New Zealand rider Lucy Jackson on Bosun had a lot to make up after a very unsettled dressage, and adding 20 for a run-out early in the course didn't help her cause, but it was all over for her at the Vicarage Vee. Arguing with Lucy going into the fence, the grey didn't stand a chance, and fell into the ditch. Both Lucy and Bosun looked okay, albeit emerging covered in mud.
You can see some of the cross country highlights, including Lucy and Tim's falls, on this link to TVNZ's piece.
It was interesting to hear Bruce Haskell while he was a guest commentator on FEI TV. Bruce, originally from Wellington, is the President of the International Event Rider Association. He talked about Andrew Scott's wise words that eventing was all about "defending whatever score you have got."  These words prove true, as the score board has changed so much after the first phase.
Also in the commentary chair for a while was Blyth, who was asked about his recent course-building experiences. Blyth announced that he had aspirations to do a lot more of it and progress to some of the bigger events. That will be interesting!
So, there is a real likelihood that the Rolex Grand Slam could be won tomorrow. Michael Jung has set himself up with every chance and really does deserve to win it. In an interview after his cross-country, Michael (known as 'Michi') looked startled when Peggy French sang "Oh Mickey you're so fine…" to him before she started the interview in the mixed zone. Perhaps he is too young to know that song. He recovered quickly enough. however, to talk about his horse. "Very amazing feeling, so beautiful to ride cross-country." He outlined how he had plans for many different options if things didn't go right, but Sam apparently knew what he had to do and everything went according to Plan A. "I'm very very proud of him, this horse is very amazing."  The rider ain't too bad either!
There are 48 combinations still in the competition after cross-country. Seventeen were eliminated, two had already withdrawn after dressage and ten retired on course.  While Michael Jung has a good lead, there really is nothing between the next group of riders.  The show jumping rails will have to stay up for riders to bring home the prize money, but first, of course, there is the horse inspection to pass in the morning.
You can check out the results after Cross Country can be found on this link.