The Puissance Wall
Another brick in the wall…
The monumental puissance wall is sometimes jumped on its own, or with one or two other fences. It often ends up standing well over two metres high, as layers of bricks are added each time it's cleared. The world outdoor puissance record belongs to Germany's Franke Sloothaak and the gorgeous black Leonardo, who cleared 2.40m in 1991. Watch them here https://www.youtube.com/watch?v=6u0837uANgE, and be in absolute awe! 
And when it goes wrong, it's no fun for anyone!
However, if you think a brick wall looks bad, how about puissance rails (above)? Eeeeeek!
The Vicarage Vee Footbridge, Badminton
This Badminton fence isn't just a rider-frightener; it terrifies spectators too. It's best described as rails jutting out over a huge ditch and it calls for every skill in the book. American Boyd Martin and his horse Cracker Jack were Vee-victims at this year's event (they weren't hurt, luckily). We think that all horses and riders who jump it and don't take the much easier option are beyond brave and beyond awesome!
The Lake, Badminton
Is this the most famous cross-country water jump in the world? Probably! Its design changes from year to year, but one thing stays the same: it's always a massive, multiple-jump challenge for riders.
Huntsman's Close, Badminton
Some of the world's best riders have hit the Huntsman's ground. It changes from year to year, with several fences to negotiate. The worst thing about it is that you jump from daylight into heavy shade: suddenly, it's hard for horse and rider to see where they're going!
Cottesmore Leap, Burghley
This monster is the largest eventing fence in the world. Hordes of Burghley fans gather each year to watch the action at the Leap: a 1.45m brush with a gaping ditch in front and a three-metre spread. William Fox-Pitt hates looking too closely at this fence when he walks the Burghley course!
Hickstead horrifiers
The British Jumping Derby at Hickstead (often just called the Hickstead Derby) is one of the most famous equestrian events in the world, and makes heroes of its human and equine stars. It's a dramatic show jumping competition over 'natural' obstacles, and has several legendarily scary obstacles, including the well-named Devil's Dyke, and the towering Derby Bank, the largest and steepest jump of its kind on the planet. 
It takes a very special horse to win the Derby – super-brave, ultra-careful (the jumps have light rails that can be easily knocked down), AND fast, as it's a timed event!
Clear rounds are few and far between, but did you know that in 1967, British rider Marion Coakes rode the famous 14.1hh Stroller to a clear and to victory – he's the only pony to EVER have won it. A year later, he went on to win individual show jumping silver at the Mexico Olympic Games!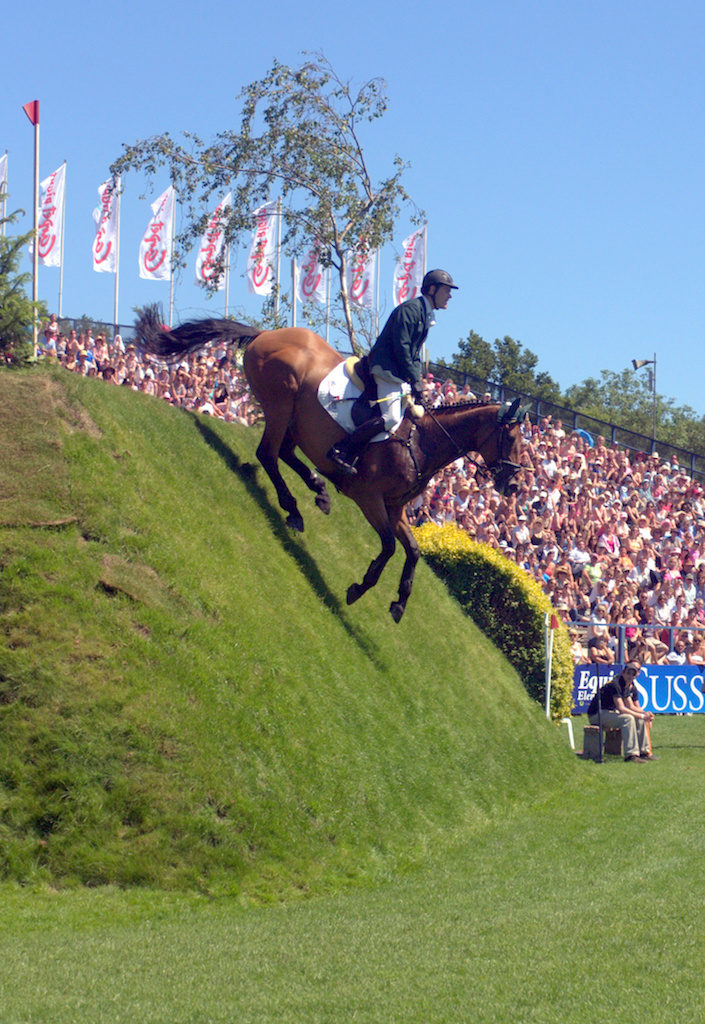 Hickstead horror #1: The Bank
It's 3.20m high with 1.4m rail on top, very close to the edge. But there's worse to come… at the bottom, just two strides away, are 1.60m white rails with no ground-line. The pictures tell the story. Help, help, HELP!
Hickstead horror #2: The Devil's Dyke
This nightmarish three-parter comes straight after the white rails at the bottom of the Bank. Jump in over 1.45m unpainted rails (very open; no ground-line, of course), down into a hollow where you jump a big ditch and 1.45m (again, unpainted) rails, then out over 1.42m rails, also unpainted. Bad enough, but the dip makes the final rails seem 1.80m and the take-off is uphill. Worse still, the Dyke can look like one big obstacle to the horse. This is the one that Hickstead riders dread the most. There's also one at Spruce Meadows in Canada.
Horse High Jump
High jumps are scariest construction of coloured poles imaginable, towering and teetering, very flimsy, with HUGE wings on the side. Officially the highest obstacle of this type ever conquered was a ridiculous 2.47m, cleared in Chile in 1949 by a horse called Huaso. You can see this here http://www.youtube.com/watch?v=p_JK5UW4PEo
Even better to watch is Nick Skelton and the fantastic Lastic break the British high jump record by clearing 2.32m at Olympia in London – you won't believe your eyes! http://www.youtube.com/watch?v=WC5YzdOjH58 
The very well-named Great Heart (pictured on the left) reportedly cleared this terrifying 2.5m fence in the USA in the 1920s (but the official record belongs to Huaso's 2.47m).
The horse high jump event was held at the Olympic Games once (literally, once.) (That was in 1900, if you're wondering…)
NB: The difference between puissance rails and the high jump? The high jump is a slightly sloped fence; puissance rails are upright.
Becher's Brook, Aintree
Becher's (rhymes with teacher's) is part of the Grand National Steeplechase at Aintree in England. It's not the highest jump on the course but it causes the most accidents, and it's jumped twice during the 7.2km race. It stands 1.47m tall with 2.06m drop on the landing side – and until recently there was a wide brook there too. Only five times since 1960 have there have been no falls at Becher's and after many, many protests it has been modified (the brook has now been covered), but it's still nasty. The RSPCA wants it removed forever, and so do we. Every horse who jumps it is a hero, but one is an actual superhero, and that's Red Rum. He won in the Grand National 1973 and 1974, came second in 1975 and 1976  and won again in 1977.