Show jumping is hugely popular in the 1960s, with an enormous following. International show jumping stars are household names – Pat Smythe and David Broome among the most well-known. But specialising is almost unheard of – many of the show jumping horses also compete in flat classes and even in dressage – in fact, in 1962 Bill Hyem, a member of the touring Australian team, wins the show jumping Horse of the Year and the Burkner Medal for national dressage champion, on the same horse, Coronation!
New Zealand riders are mostly mounted on stationbred or part-thoroughbred horses. There are also a number of purebred Arabians in the country, Welsh mountain ponies, Shetlands and one Cleveland Bay stallion, Eaglescliffe Emperor, who was imported on lease.
Show horses often travel by train and ship. Horse boxes are available on trains, but are cramped and poorly ventilated; cattle trucks are preferred. Floats are just beginning to make an impact; tail-first is the preferred option.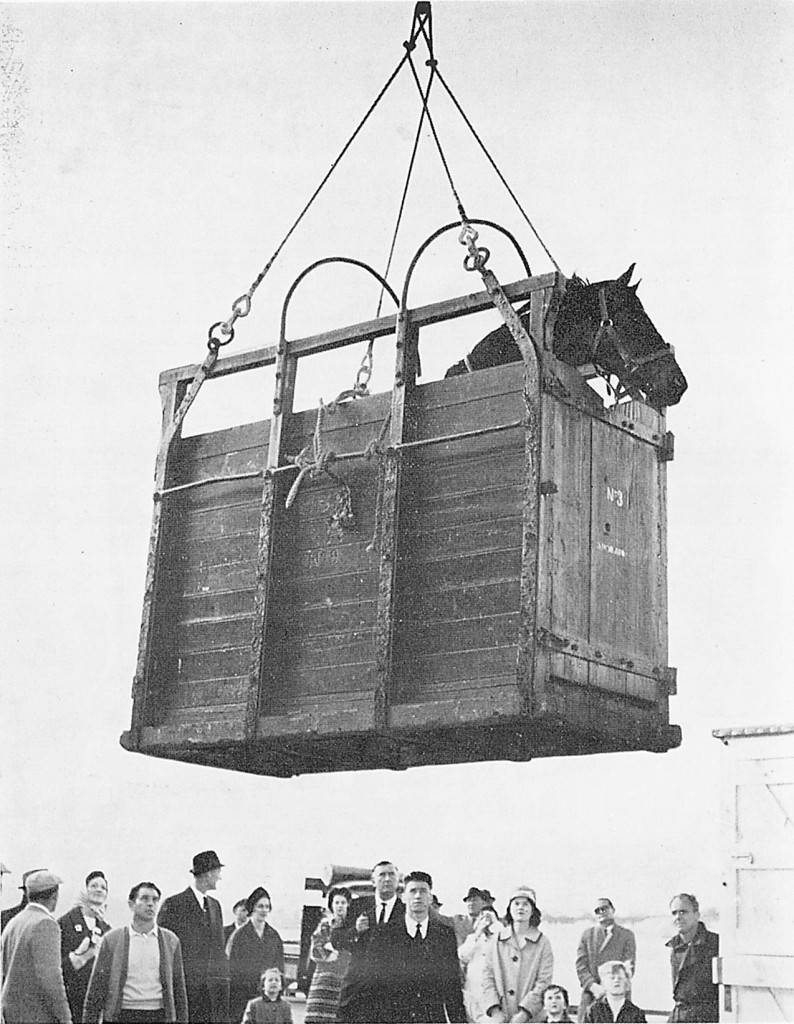 While New Zealanders compete in Australia, both in show jumping and dressage, on a number of occasions, the 1960s sees our first Olympic representatives, with an individual show jumper competing in Rome (Adrian White on Telebrae) and a team in Tokyo.
During its first decade, NZ Horse & Pony carries detailed reports on the jumping circuit, as well as a monthly point-to-point column and hunt reports.
Almost everyone wears black velvet riding caps, but it isn't uncommon for riders to compete with bare heads. Riders are urged to use elastic to keep their hard hats on. However, the magazine recommends "better than elastic is a hat that fits"; corrugated cork is put inside them to achieve this.
A half-Clydesdale gelding called Telebrae and his rider, Adrian White, emerge as the first combination to represent New Zealand at an Olympic Games. Telebrae makes history by clearing the triple bar at 6'1" and the straight rails at 5'8" at the Easter Show in Auckland, and in order to gain selection for the Games, has to successfully negotiate replicas of the two previous Olympic courses at local shows.
NZH&P starts a page for young reader's contributions, a dog's page, a for-sale column for horses, ponies and gear, and a veterinary advice column.
Maximum height for A1 jumps at pony club (cross-country and show jumping) is 4 feet (1.2m), with no spread restrictions; DC maximum is 3'6". Wire jumps in cross-country are par for the course.
The first health supplement for horses, APAC, which includes vitamins A and D only, is advertised in NZH&P in October, 1960.
Michael 'Lockie' Richards is the first New Zealander to complete the BHS instructor's examination.
Versatility rules at the Horse of the Year Show. In 1961, Graeme Hansen and the diminutive Saba Sam (under 15.2hh) are first-equal in the puissance – and win supreme champion hack, as well as lightweight working hunter. The 1963 HOY, held in Auckland, is attended by the Queen, who presents the Queen Elizabeth Gold Cup for puissance to Saba Sam and Graeme Hansen; the pair then go on to break the national height record with a 6'4" leap (1.93m) at a NZHS show in Hawke's Bay.
Mangere Pony Club's gymkhana is televised and airs on New Zealand's sole TV channel the following week – during the evening!
The last male stronghold of the equestrian world is breached: the FEI capitulates and agrees to let women compete in the Olympic 3DE for the 1964 Tokyo Games.
In 1962 Equizole, a wormer which can be included in your horse's feed, is advertised for the first time. Previously, worming was done by a tube down the nose (drenching), a job for the vet.
The New Zealand Pony Clubs Association holds its first inter-Pacific exchange in 1967, with teams visiting from the US, Canada, England, Australia and Japan.
1960s NZ Horse & Pony covers
Olympics and World Championships
1960 Rome Olympics
Adrian White and Telebrae are New Zealand's first equestrian competitors at an Olympics. The horse has a "less-than-perfect" first round, but improves dramatically in the second to be one of only three combinations to jump through the difficult treble. After the competition, Telebrae is bought by Pat Smythe.
1964 Tokyo Olympics
After extensive public fundraising, a team of Bruce Hansen and Tide, Adrian White and Eldorado, Graeme Hansen and Saba Sam, and Charlie Matthews and Syndicate, is sent to compete at Tokyo. Of the total £5500 cost, more than £3000 is raised through a national appeal and raffle. The team finishes 10th, with the best individual performance by Saba Sam, who has 12 faults in the first round. Public expectations had been high, and team manager BG Rutherford says later that he didn't believe the Kiwi horses had produced anything like the form they had shown in training.